Textiles Showroom Market Opens Today
Posted on 
March 23, 2015
 by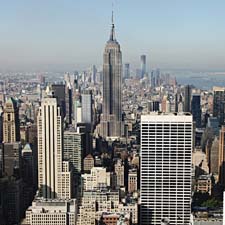 NEW YORK—The first of this year's two New York Home Fashions Markets formally opens today, with vendors of bedding, bath products, window treatments and other soft home products highlighting their latest introductions to the retail community.
Among the highlights in bedding, Revman is unveiling another addition to its already long lineup of brands—Pineda Covalin, a bedding collection from the Mexican design house of the same name. WestPoint Home will be launching its most recent license, with Dena Designs for a collection of bed ensembles. Ellery HomeStyles will be expanding its Blissliving Home license with bed ensembles themed around Mexico City.
Blissliving Home has also expanded its license territory to include Avanti Linens, which will debut its line of Blissliving Home bath ensembles this week. In window treatments, S. Lichtenberg will continue to expand on its Sun Zero brand of energy-saving curtains and panels.
In basic bedding, technology will be in the spotlight at Pacific Coast Feather's showroom. Among its new brands are Loves to Be Washed, a set of bed pillows, mattress pads and comforters made with compression-resistant technology that enable them to be washed without losing loft. Also new from Pacific Coast Feather is Sleep-Dri, a brand of pillows and comforters that features proprietary filling and fabric technologies that wick away perspiration to keep sleepers dryer and more comfortable for undisturbed and more restful sleep.