Textiles In The News
Posted on 
November 27, 2012
 by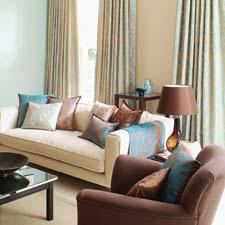 Home textiles made with Silvadur technology
Dow Launches Antimicrobial Technology for Textiles
Dow Chemical's Dow Microbial Control business unit has introduced Silvadur Antimicrobial, a microbial control technology that provides protection against bacteria that can cause odors, decay, rot and discoloration in textiles. Silvadur, a trademarked product, combines silver with a polymeric delivery system that puts silver ions onto fabric surfaces in a controlled manner when bacteria is present. A Dow statement described Silvadur as "an intelligent protection" that performs at each stage of the supply chain. It allows manufacturers to produce items that offer intelligent protection at reduced dosages using standard formulations and applications. In addition, it enables brand owners and retailers to design products with Silvadur's protection, which remains active through 50 or more washings. Karel Williams, global strategic marketing manager for Dow Microbial Control, said the Silvadur technology is applicable to home textiles, sports and fitness apparel, socks and intimate apparel. The technology is compatible with both natural and synthetic fibers, a broad range of common textile chemical additives, detergents and other finishing treatments. The Dow statement added that Silvadur has been assessed and certified by the International Oeko-Tex Association, which researches and tests textiles additives, and is registered with the U.S. Environmental Protection Agency.
Protect-A-Bed Debuts SnoreBeGone Sleep System
At last month's International Hotel, Motel and Restaurant Show, Protect-A-Bed debuted SnoreBeGone, a sleep positioning system that helps the body overcome the factors that are likely to cause or increase the likelihood of snoring. The SnoreBeGone's design addresses snoring causes such as sleeping on one's back, weight gain around the throat and relaxed throat muscles due to aging. It supports the entire body, not just the shoulders and neck, by elevating the body to prevent the gravitational collapse of airways, and thus helping the user to maintain correct posture during sleep by ensuring that the spine and shoulders remain at the correct angles. The system is made with three layers of foam. The top section consists of memory foam; the next layer is the "spacer" foam that can be removed to lower the head-rest height; and the bottom layer is a heavy-duty foam for the base. SnoreBeGone encourages side sleeping, which leaves air passages open to make breathing easier. According to Sandra DeVito, Protect-A-Bed's vice president of hospitality, SnoreBeGone is "the perfect added-value product" which hotels can offer to guests who check in with a partner or roommate who snores. "Protect-A-Bed strives to continually add new choices to our product offerings to help guests achieve a better night's rest," DeVito said, "and SnoreBeGone is the latest example."
Thee Unveils Home Collection
Marc Thee, founder of residential design firm Marc-Michaels Interior Design, has launched a new collection of home furnishings available exclusively at Altogether Home, the home furnishings retail website. The collection includes organically inspired bedding, headboards and vanities. Among the bed products is the menswear-inspired Taylor Banded duvet and bedding collection and the Embroidered Strands duvet and bedding collection. Both lines feature high thread counts and color-fast fabrics, and each duvet, blanket and bedding accessory is crafted from luxury materials to ensure long-lasting comfort. The collection draws on Thee's 25 years of experience in designing luxury residences and boutique hotels, and each product is designed to mix and match within a wide variety of interior design styles. Thee is the first guest curator and product designer for Altogether Home, which opened for business last year and which--along with offering home furnishings products--provides design advice for consumers looking to decorate homes in high-end styles at more affordable prices. Thee's initial collection also offers vanities (which include bowl sinks, vessel sinks and set-top sinks), headboards and bed frames, all made in Italy.
NPD: Convenience, Online, Sharing Across Rooms Key Home Textiles Trends
Convenience, increased purchases from online retailers and sharing products across rooms are shaping up as the key trends in home textiles among consumers, according to Carrie O'Connor, account manager for housewares and textiles at The NPD Group. In a presentation delivered to the annual meeting of the Home Fashion Products Association last month, O'Connor said the "convenience" element includes products that are easy to buy, and that are affordable and luxurious at the same time. Along these lines, O'Connor said, recent consumer purchases seem to favor products in which "form is winning over function"--in other words, products such as decorative pillows and throws which serve a purpose in making the home look nicer, versus functional commodity products such as sheets and towels. Convenience is also playing a crucial role in where home textiles are purchased, O'Connor added. While mass merchants and discount stores such as Marshalls, HomeGoods and dollar stores still account for the majority of consumer textiles purchases, online retailers such as Amazon.com are rapidly gaining market share largely because of convenience factors (free shipping, for example). "Consumers are paying as much as 25 percent more for online purchases in some home categories," O'Connor said. In addition, more products are being "shared" across rooms, including top-of-the-bed products such as blankets and throws appearing in living rooms as decorative pieces. Looking ahead, O'Connor said NPD's data has found that consumers are more confident and are readier to shop for home textiles than they have been since the Great Recession. After reining in their overall expenditures, "consumers are tired of not spending," O'Connor said. "They feel better about the economy, and they want to spend."