Foran: Walmart U.S. Stores Can Be Better
Walmart U.S. President and CEO Greg Foran said the stores in the United States need to improve.
Posted on 
April 2, 2015
 by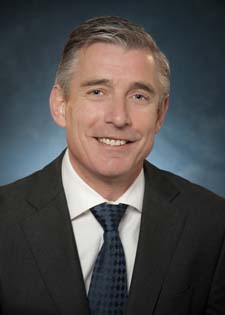 Greg Foran

NEW YORK-While calling his employer "the greatest retailer in the world," Walmart U.S. President and CEO Greg Foran said the stores in the United States need to improve in terms of appearance, merchandise, the overall shopping experience and pricing.
Describing the results of his visits to stores since becoming Walmart U.S. chief last July, at a presentation to financial analysts at the New York Stock Exchange yesterday, Foran said, "We want this year to be the year of improving our stores, so by the time we hit (the) holiday season, our stores are clean, tidy, well merchandised and run by engaged associates." In a frank admission, he then added, "Today, we are not."
To begin with, Foran said, "our inventory and quantity flow can be better. We've got too much inventory in the back rooms, and our processes are not where we want them to be." In addition, Walmart's Supercenters and Neighborhood Markets must improve in terms of adjacencies, flows, sight lines, lighting, "even the temperature of some of our stores," Foran said.
In addition, Walmart U.S. must work harder on the integration of physical and digital retail, especially in the areas of grocery home shopping and pickup. The company must also strive to take advantages of opportunities from adjacencies such as gas, care clinics and financial services.
In the key area of price, Foran said that, in more competitive markets, "our gap is too small and against some competitors, we are beaten. What is more, we lost a little bit of our muscle for reacting quickly, and I also believe that we have strayed from executing some of our (everyday low price) principles consistently."
Foran said Walmart has made strides to improve its focus on its assortment. "I don't think anyone has a better Easter assortment than Walmart," Foran said. But more needs to be done in "building an assortment discipline" for private label and omnichannel. He said this effort will be rolled out over the next 18 to 24 months.
In addition, the headquarters in Bentonville, Ark., has begun initiatives to simplify its organization and empower associates in the stores to make more decisions, using what Foran called "customer decision trees" based on data about how Walmart customers shop.
On pricing, the company will continue to focus on everyday low price. "We are developing new tools for competitive pricing," Foran said. "We will remain true to everyday low price."-David Gill