TJX Ends Year with Profit Jump
Posted on 
February 26, 2015
 by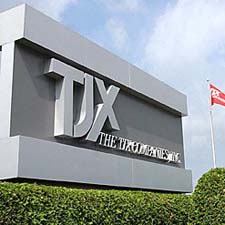 FRAMINGHAM, Mass.-Fourth-quarter net income for The TJX Cos. rose 11.3 percent to $648.2 million, bringing its profit for the fiscal year ending on Jan. 31 to $2.2 billion, up 3.6 percent.
In announcing its fiscal-year results, the off-price retailer also said it would raise wages for the associates in its U.S. stores, similar to a move announced by Walmart last week. Beginning in June, full- and part-time hourly associates will earn at least $9 an hour. During 2016, U.S. store associates who have worked for six months or more will earn at least $10 an hour.
Net sales in the quarter increased by 6.3 percent to $8.3 billion, including a same-store sales increase of 4 percent. For the fiscal year, net sales totaled $29.1 billion, up 6 percent and including an increase of 2 percent in same-store sales.
Among TJX's nameplates, the best fourth-quarter performance came from HomeGoods, with a same-store sales gain of 11 percent. For the fiscal year, HomeGoods logged a gain of 7 percent in same-store sales. Marmaxx (T.J. Maxx and Marshalls) reported same-store sales increases of 3 percent for the quarter and 1 percent for the year.
Carol Meyrowitz, TJX's CEO, noted that the 4 percent corporate same-store sales gain in the quarter exceeded the company's expectations, as did its growth in earnings per share of 15 percent. "We are particularly pleased our comps were almost entirely driven by customer traffic, as consumers responded to our exciting merchandise assortments, amazing values and effective marketing," Meyrowitz said.
Gross margin in the quarter picked up 60 basis points to finish at 28.2 percent. Selling, general and administrative expenses rose 7.5 percent in dollars and 17 basis points as a percentage of sales, to 15.7 percent.
Meyrowitz said TJX would take a "prudent approach" in 2015 toward same-store sales increases and earnings-per-share growth, while "pursuing many initiatives to drive sales and customer traffic." Regarding the pay increases, she said it "is an important part of our strategies to continue attracting and retaining the best talent in order to deliver a great shopping experience for our customers, remain competitive on wages in our U.S. markets and stay focused on our value mission."