Oxo Moves Into New Categories
Oxo unveiled several new categories at the Home + Housewares Show.
Posted on 
March 9, 2015
 by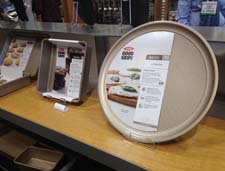 Oxo's new bakeware line, made by USA Pans, features rolled edges, measurement markings and a copper colorway

CHICAGO-Oxo unveiled several new categories at the International Home + Housewares Show, including its new small electrics line, called Oxo On. It also showed its new bakeware and cookware lines.
In development for two and a half years, the new small electrics line includes eight items: 9- and 12-cup coffee makers, a conical burr coffee grinder with integrated scale, a cordless glass electric kettle, 2- and 4-slice motorized toasters, an illuminating digital hand mixer and an illuminating digital immersion blender. The line reflects Oxo's brand with innovative touches and a clean look with products styled in mostly stainless steel and black.
"Our goal was to take the design philosophy and processes we've developed over the past 25 years and apply them to the the small kitchen electric appliance category," said Alex Lee, president of Oxo. "We are offering an intuitive, easy-to-use line that gives great performance results."
The 12-cup coffee maker features a precision pump that transports the heated water from the removable borosilicate glass kettle to the brew basket in measured cycles.The coffee grinder has preset grams to cups programming and settings to fine tune personal preferences. Both the digital hand mixer and digital immersion blender feature LED lights to help the chef better monitor the mixing process.