Pasabahce Takes the Wraps Off Nude
Posted on 
November 14, 2014
 by 
By Allison Zisko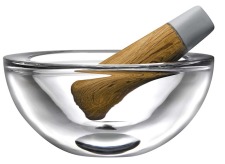 Essence is a clear glass mortar, strong enough for the grinding of herbs and spices, with a wood-tipped pestle.
Pasabahce has introduced a contemporary glassware brand to the American market called Nude that goes beyond the kitchen and the table and addresses a more modern lifestyle.
The collection, which launched in Europe earlier this year and was shown at the New York Tabletop Show last month, includes products for the bedroom and living room and other parts of the house--such as lamps, terrariums and herb gardens--that have simple, clear forms. They were designed with loft-style living in mind, according to Nude Brand Director Yair Haidu, which he said calls to mind a decluttered home where the walls have been eliminated to let in more air and light.
It is not meant to be a brand that has something for everyone, Haidu said. Nude, with its distinct point of view, offers "something for somebody."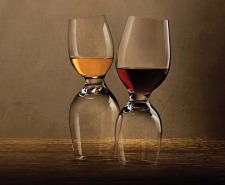 Designer Ron Arad's upside-down stemware can hold either red or white wine, depending on how the glass is flipped.
And the provocative name? In the brand development stage, the values of the brand became clear--clarity, transparency--and the name became obvious, Haidu said. "It's not naked, it's nude," he said, and it emphasizes the artistic side of the brand.
Explaining Nude's reach beyond tabletop, Haidu said that, anecdotally, most people spend more time in other parts of their homes than they do around the kitchen table. "It opened my eyes to reconsider the spaces we live in," he said.
The Loft collection thus encompasses the bedroom, living room, kitchen and dining room. Bedroom items include things like a glass-and-wood jewelry tree, a mirror that also acts as a ring catcher, a glass-and-wood lamp and a bedside carafe. The living room pieces are centered on the concept of bringing flowers and greens into the home, with products that range from vases and terrariums to herb gardens and hydroponic systems. A second living room theme is light, with products that introduce color or warmth; this theme is both functional and decorative and includes candleholders as well as glass centerpieces, with many other products in between. Kitchen goods embrace function with elegance; the iconic piece in the collection is a pot for aromatic herbs that has an auto water supply, another eye catcher is a glass mortar with a wood-tipped pestle. For the table, "we did not want anything too classical," Haidu said. The Host Like a Pro line enables consumers to entertain at home the way they see it done at restaurants, with serveware for small plates and finger foods. There is stemware in the line that is elegant and thin-stemmed.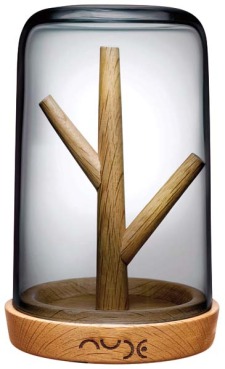 The Blossom jewelry tree, reminiscent of a birdcage, is made from oak set within glass. nudeglass.com
The Loft collection is positioned as an "affordable premium" brand; living room pieces are priced at $75 and $85, up to around $150. The pieces are produced in Pasabahce's facilities, so Nude has the production advantages of a large company, Haidu said.
Nude is also working with designers, such as Ron Arad and Rony Plesl, who are lending "smartness, edginess and simplicity" to additional collections.
Nude had a soft launch at the Tabletop Show and will probably make a bigger splash at the next edition of the show in April. It will be distributed directly in the United States (its distribution in Europe varies from country to country).
"We believe in this market," Haidu said. "We want to make sure the brand will be protected."