Surya to Debut Rug Line by North Carolina Artist
Surya will debut a rug line from North Carolina landscape artist William Mangum next month at High Point Market.
Posted on 
March 18, 2015
 by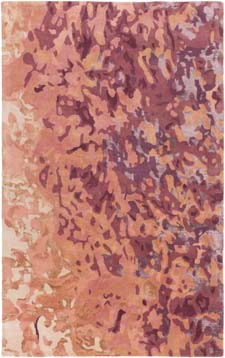 From Surya's Remarque line

CALHOUN, Ga.-At next month's High Point Market Surya will launch three rug collections from William Mangum, an internationally acclaimed artist who has painted the North Carolina landscape for more than 35 years.
Mangum's new rug collection with Surya will infuse elements from the natural world, from the Blue Ridge Mountains to the state's shorelines. The indoor/outdoor handhooked Artisan group has overscaled fern and pine motifs in natural hues. The Essential line is handwoven of jute and is a textural collection, using colors of earth and echoing the rugged landscape. Handtufted wool with viscose accents, Remarque will feature impressions of sand and water and evoke a sense of gentle movement.
"My goal as an artist is to help people become astute observers of the world around them, to encourage them to pause and appreciate nature's inherent ability to shape our mood and comfort levels," said Mangum. "With these new rug collections for Surya, I wanted to provide an accessible way for people to bring the beauty of the outdoors into their home environments while also complementing the latest home decor and fashion trends."
"As a lifelong student of nature, Bill Mangum possesses the rare ability to see beyond the surface of the landscape to capture its intrinsic beauty in a way that really speaks to the viewer," said Satya Tiwari, president, Surya. "Likewise, at Surya, we are always looking beyond what has been done before to find new and different ways to bring inspired design into the home. "
Surya will showcase Mangum's rug collection at its Showplace showroom, 4100, next month. The company is also hosting several educational and social events and will serve a complimentary catered breakfast and lunch each day, along with hors d'oeuvres and cocktails each evening.