Sango Exec Francis Fluegel, 60
Posted on 
September 30, 2011
 by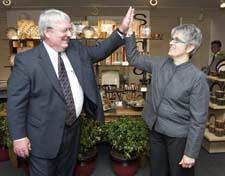 Fran Fluegel with Robin Long of Replacements at the April Tabletop Show in New York
EVERGREEN, Colo.-Francis Fluegel, vice president of sales at tabletop company Sango for the past nine years, passed away last Sunday, Sept. 25. He was 60 years old.
Fran, as he was known to most, died unexpectedly of a heart attack in his sleep at his home in Colorado, said Lance Wade, president of Sango and a close friend of Fluegel's. He said he hired Fluegel over the phone but the two became fast friends the minute they met. "To know him was to love him, to work with him a pleasure," Wade said. "He was a great guy. Everyone who knew him loved him."
Fran and his wife Marianne loved to travel around the country's national parks in their RV along with their dogs, whom Fran adored. He was known to shop at warehouse clubs for oversized bags of dog food that he brought to the local animal shelter, said Wade. "He was a happy guy, always happy."
Fran is survived by his wife Marianne and his loving family. A memorial service will be held for family and friends on Oct. 15 in Evergreen, Colo.