Rug Companies Organize for Nepal Relief
Posted on 
April 29, 2015
 by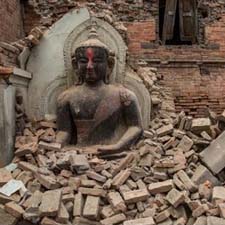 A recent image from Nepal

NEW YORK-Handknotted rug manufacturers that have weavers and factories in Nepal have started mobilizing efforts to help victims of the earthquake, which occurred this past weekend.
Some companies have been able to account for its weavers, while others—because of impaired communication—are still waiting to hear. Many of the rug workers are in or near Kathmandu, Nepal's densely populated capital, which was hard hit. Registering a magnitude of 7.8, the earthquake hit Nepal on Saturday, followed by aftershocks. It leveled villages and caused landslides, avalanches and mud slides. As of this morning, the reported death toll is now more than 5,000.
Nonprofit organization GoodWeave has both a rehabilitation facility for rescued carpet weavers in Kathmandu as well as an extensive network of licensed rug suppliers in the area, said Carolina Turnbull, business development associate. All of the children and staff at the rehabilitation facility are safe and have been accounted for, and the building itself is fine despite some damage.
Regarding its licensed rug suppliers, "we have news tricking in on the level of damages at all of those facilities," Turnbull said. "The country is at a standstill."
GoodWeave has set up a Nepal Earthquake Relief Fund (donatenow.networkforgood.org/nepalearthquake) so people can donate.
Feizy Rugs is supporting The Global Fund for Children through a dedicated page on the organization's website (http://bit.ly/1DxdrYb.) with a $15,000 donation, as well as a commitment to provide a portion of the company's sales through May 15 to help bring critical relief to Nepalese children and their families.
"As rug manufacturers, we have worked for decades with the people of Nepal," said John Feizy, CEO of Feizy Rugs. "Helping the children of the world to have a better life has always been a focus at Feizy and we recognize that with a disaster like this, those children need our support now more than ever."
For Warp & Weft, its factories were only moderately damaged, the company said, though a lot of its weavers' families are affected. The company will donate 15 percent of all of its stock and custom sales proceeds, as well as balance payments on pending orders, to the relief efforts.
New Moon Rugs produces all of its line in Nepal, and most of its workers have been displaced from their homes, said Erika Kurtz, chief operating officer, who plans to head there soon to help rebuild. The company is also working to raise funds.
The Rug Company and Jan Kath were two other companies that reported that their weavers are alright, and now it is a priority to help the weavers with the recovery efforts. "It is too early to know how all of the many people and their families who are involved in our production have been affected, but we will be making sure we look after them in any way possible," said Chris Sharp, The Rug Company. Jan Kath recommended three organizations for donations: Red Cross Nepal Earthquake Relief Fund (redcross.org), Care (care.org) and Label STEP (label-step.org).-Andrea Lillo