Opinions
Blog: Kikkerland Brings its Quirky Sensibility to Manhattan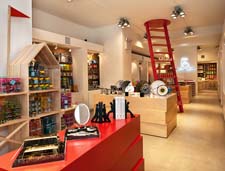 Kikkerland Shop NYC
The Kikkerland store on 6th Avenue at 12th Street in Manhattan is worth a visit during the upcoming NY Now show. The store may be new, but its retail roots run deep. The 1,000 square-foot shop provides a showcase for all of Kikkerland's wonderfully quirky pieces and offers a sneak peek at what's new and ready to ship in coming weeks.
The store was set up (in a hectic but satisfying six weeks late last fall) by Kevin Brynan. Brynan was the owner of Mxyplyzyk, a specialty gift store at Greenwich Avenue and 12th Street that closed a year ago after a 20-year run. It was a specialty store that offered affordable modern designs, much like Moss or Conran's, but easier on the wallet. (The crazy name, by the way, was derived from a mysterious villain in the Superman comics).

Top to bottom: Kikkerland's solar pope, Student-designed rabbit bank, Student-designed axe tea infuser
Brynan said he was one of the first retailers to carry Kikkerland products, and over the years Kikkerland became Mxyplyzyk's number-one vendor. Some of the best-selling Kikkerland items included Critters, which are wind-up toys, and kitchenware items like tea infusers and its man and woman chopping boards.
Kikkerland is known for its inventiveness, Brynan said.
"He [Kikkerland owner Jan van der Lande] takes common household objects and gives them an edge."
In recent years, the tough economy, the strength of the Internet and the closing of nearby St. Vincent's Hospital (a major source of customers) took their toll on Mxyplyzyk--and its competitors. Conran's in New York closed, so did Moss. Brynan shuttered his shop in December 2012, thinking, "This is as much as I can take." He said, "Maybe Mxyplyzyk's shelf life had expired. Our store was 20 years old. Maybe it was time."
It wasn't time for Brynan to leave retail, however. Van der Lande told him, "Now it's time to open a shop for me."
Kikkerland Shop NYC's assortment is 70 percent Kikkerland product. "The store will be a vehicle to let the public know what Kikkerland is introducing," Brynan said. The remaining 30 percent is offered to outside brands that don't compete, such as Roost glassware and Kobo candles, both of which Brynan carried at Mxyplyzyk, as well as products and designers that are not as visible in the United States as they are abroad.
"We want to make sure that Kikkerland shows what is very current in the market right now."
Kikkerland Shop NYC enjoyed a good holiday season, Brynan said. If there was one problem, it was the block-long scaffolding surrounding the nearby John Adams apartment building that obstructed the view of the store. But Brynan said last week that the scaffolding should be coming down this week, perhaps just in time for NY Now, which gets underway on Sunday.
On Monday, Feb. 3, the store will host a book signing for "Lettering Large," by Steven Heller and Mirko Ilic, a look at how typography has influenced architecture. It also hosted a competition for South Korean design students; the winners' products were produced and will be available at the store. They include a rabbit piggy bank whose tummy grows when you deposit coins, and a mini dog-shaped flashlight that is based on a folktale about a dog retrieving light from the moon.
"When you reach out to students, these young kids come up with crazy ideas about products," Brynan said. "It's refreshing."
After 35 years as a buyer, Brynan said he welcomes the chance to find new ways to look at things. Visitors to Brynan's and Kikkerland's newest retail venture could say the same thing.--Allison Zisko