R Squared, Kellogg's Sign Deal for Tabletop
Posted on 
March 19, 2015
 by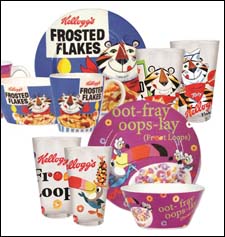 The collection will feature vintage designs of Kellogg's characters.

NEW YORK-Kellogg's has partnered with tabletop company R Squared Sales and Logistics to expand its presence in the kitchen with a new line of tabletop and decor.
R Squared will develop a collection of ceramic bowls, plates, mugs, glasses and canisters featuring vintage designs of Kellogg's iconic characters, according to a statement from The Joester Loria Group, which brokered the deal. The collection is scheduled to launch at specialty, mid-tier, mass retailers and grocery retailers this fall.
"It's a great license. With R Squared's new focus on the grocery and drug store channels, we think it will be a perfect fit, and also a great fit with our other brands, Disney, Hasbro and Warner Bros.," said David Zrike, R Squared's vice president of product development.