Kas Rugs Unveils its 2014 Look Book
Posted on 
September 26, 2014
 by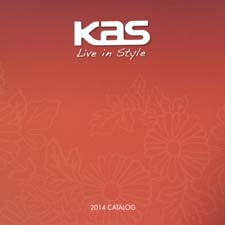 Kas Rugs' new Look Book
SOMERSET, N.J.-Kas Rugs has unveiled its latest catalog, reflecting new features as well as details on the Kas brand story and stories about licensed designers Bob Mackie and Donny Osmond.
At 238 pages, the bound book is larger than its previous catalogs. It's the company's first fashion-forward look book and includes its newest product categories--pillows and poufs--along with rugs.
Besides an in-depth look at Kas' product line, the catalog includes a Trend Watch section, which highlights some of today's newest trends in color and design and showcases Kas' innovations. Along with the stories about Kas and its licensed designs, Bob Mackie and Donny Osmond Home, the catalog includes information on frequently asked questions and care instructions.
"This look book takes Kas to the next level," said Rao Yarlagadda, president of Kas Rugs. "We look forward to strengthening our relationships and helping our partners provide a quickly accessible tool to help them sell better. Creating new distribution channels will be beneficial to both us and our retail partners."
Santhi Yarlagadda, vice president of business development, added, "Kas Rugs will produce look books to keep pace with consumer demands and as a way to maintain better retailer relationships. With the number of new collections being unveiled at every market, it is a constantly changing retail environment. This is a whole new era for Kas, and we look forward to the surge of growth ahead."