Staack to Retire from IMC
Ryan Mahoney to succeed Staack
Posted on 
July 20, 2015
 by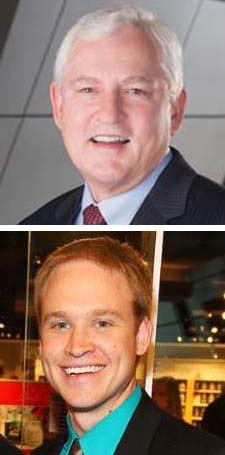 Craig Staack, top, and Ryan Mahoney

LAS VEGAS-Furniture veteran Craig Staack, vice president of home furnishings leasing for International Market Centers–Las Vegas, will retire at the conclusion of Las Vegas Market next month. Ryan Mahoney has been promoted to vice president of furniture leasing in Las Vegas.
Staack joined Las Vegas Market in 2009, and when IMC was created through a series of acquisitions in High Point and Las Vegas in 2011, Staack took on the role of vice president of home furnishings for Las Vegas. Staack spent much of his career in executive management with companies such as Lane Home Furnishings, Sealy and Montgomery Ward.
"Craig has had a noteworthy career in the home furnishings industry, and we have been fortunate to have his expertise and leadership at IMC," said Bob Maricich, CEO of IMC. "Under his leadership, occupancy in Las Vegas grew by nearly 1 million square feet. As he departs, we are also very fortunate that we have a strong bench of talent. Craig retires having built a professional and dedicated team of strong performers and future leaders—leaving IMC well positioned to navigate his departure."
Formerly furniture leasing director for the campus, Mahoney began his career with the company in 2008 as sponsorship program manager, where he developed and sold sponsorship initiatives during the formative years of the Las Vegas Market. He transitioned to the leasing side of the business where he has increased occupancy year after year, according to IMC. In his new role, which he assumes on July 20, Mahoney will work with the furniture leasing team in Las Vegas to set direction and drive leasing activity for the biannual markets. Mahoney reports to Scott Eckman, executive vice president of marketing and furniture leasing for IMC.
"I have the utmost confidence in Ryan in his new role," Eckman said. "Beyond his strong work ethic and innate leadership ability, he is a student of the furniture industry with a genuine passion for our business. Over the past several years, Ryan has helped countless furniture companies grow and expand; I know he will capably lead our leasing team to new levels of customer satisfaction."