Iittala to Set the Table at NYC Nordic Festival
Posted on 
September 9, 2014
 by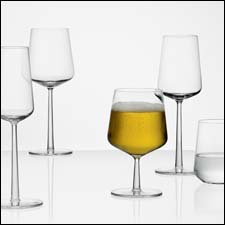 Essence stemware
NEW YORK-Finnish tabletop brand iittala has partnered with Honest Cooking Media to become the official dinnerware sponsor for the second annual North Nordic Food Festival, to be held in New York City this month.
The festival is a celebration of Nordic cuisine and culinary philosophy produced and hosted by Honest Cooking Media. It will include a pop-up restaurant space at the Old Bowery Station where dinners, panel discussions and other activities will be held. There will also be pairings of local and Nordic chefs at select restaurants, cooking classes and a street food festival. Iittala's Teema dinnerware, designed in 1952, and Essence stemware will be used in the pop up restaurant and other dining venues throughout the festival.
The festival will take place Sept. 12-20.