Hudson Valley Lighting Breaks Ground on New HQ
Posted on 
October 31, 2014
 by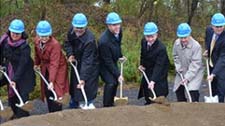 Littman and city officials break ground
NEWBURGH, N.Y.-Hudson Valley Lighting recently broke ground on what will be its new world headquarters here. David Littman, founder and president of Hudson Valley Lighting, celebrated the event with such elected city officials as Congressman Sean Patrick Maloney, Senator Bill Larkin and City of Newburgh Mayor Judy Kennedy.
Planned to be 140,000 square feet, the new facility will house research and development, design, production and distribution and is expected to open late next year. Founded in 1985, Hudson Valley Lighting is part of Littman Brands, a family of lighting brands that includes Corbett Lighting, Troy Lighting and CSL Lighting.
"The Hudson Valley is my home," said Littman. "While much of the lighting industry has largely outsourced to Asia, we are more committed than ever to manufacturing and distributing right here in Newburgh."
Hudson Valley's new headquarters will help the City of Newburgh environmentally, as well as economically. The new grounds will take up the former 15.2-acre site of the City of Newburgh municipal landfill, which will be remediated and transformed into a viable, productive property, the company said. The $20.8 million project will retain 180 jobs and add 50 more permanent positions to the Hudson Valley Lighting payroll over the next five years, the company said.
This new facility continues Littman's commitment to broaden U.S. manufacturing and distribution facilities. In 2011, the company opened a 200,000-square-foot West Coast headquarters, which houses research and development, design, production and manufacturing facilities for Corbett Lighting, Troy Lighting and CSL Lighting.
Representative Maloney stated, "When we roll up our sleeves and work together, we can support our local businesses, invest in our infrastructure and revitalize communities in Orange County. I'm proud to stand with Hudson Valley Lighting to begin this critical economic development project that expands manufacturing right here in the Hudson Valley and creates good-paying jobs for our neighbors."