ILWU, PMA Draw Lines on Port Contract Dispute
Posted on 
November 24, 2014
 by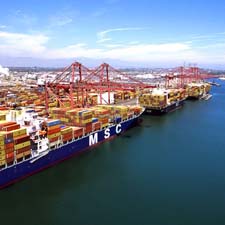 SAN FRANCISCO-The contract dispute between the International Longshore Warehouse Union (ILWU) and the Pacific Maritime Association (PMA), which affects key West Coast retailer ports, has now become a war of words.
The two organizations have been bargaining on a new contract since July 1, when the previous contract expired. Dock workers have stayed on the job thus far throughout the negotiating progress--although, in one statement, the PMA accused ILWU workers of slowdowns at the ports of Tacoma, Wash., Seattle, Oakland, Los Angeles and Long Beach, Calif.
Separate statements and comments by spokesmen of the two organizations have accused each other of slowing down progress in the negotiations. The PMA's statement said the ILWU "has decided to curtail 'big table' negotiations" through Dec. 1--in effect, walking away from the bargaining process--and is limiting the process to "subcommittees discussing limited issues." In addition, the PMA said, the ILWU has refused to agree to a temporary contract extension "despite multiple requests by the PMA."
In an email to HFN, PMA spokesman Wade Gates said, "Unfortunately, the union has walked away from the big-table talks until Dec. 2, so we will not make progress on the overarching agreement until then, and the disruptions along the coast will continue."
Responding last Friday to the PMA in a phone interview with HFN, ILWU spokesman Craig Merrilees called the PMA's statement "inaccurate. Negotiations are under way at this moment. They are just taking place with a smaller committee than the PMA wants. These negotiations have been productive and positive."
Merrilees said he was restrained by a mutual agreement between the two organizations when asked for specifics on where progress has been made. He did say, however, that the two sides have agreed to maintain health benefits for the dock workers at their current level.
Responding to reports that President Obama has refused to name a federal mediator in the dispute, Merrilees said, "This is a recognition by the Obama administration that progress is being made in the talks."
Also responding to the mediator reports, Gates said, "Given the importance of the West Coast ports to the U.S. economy--and particularly in advance of the coming holiday shopping season--we would support any and all efforts designed to get the ports working again, and to reach a new contract with the union that ensures the ports stay competitive in the future."-David Gill