Costco Q3 Net Gains 9.1 Percent
Costco's net income rose 9.1 percent in the third quarter.
Posted on 
May 28, 2015
 by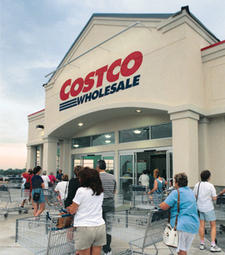 ISSAQUAH, Wash.-Although sales rose modestly in the quarter, Costco was able to boost its third-quarter net income by 9.1 percent to $516 million.
Net sales in the quarter, which ended on May 10, edged up 1.1 percent to $25.5 billion, including 1 percent decrease in total company same-club sales. In the United States, same-club sales were up 1 percent, but for the international locations, same-club sales fell 6 percent. A Costco statement attributed the same-store declines to the fall in gasoline prices and foreign exchange rates.
Gross margin picked up 47 basis points to 11.1 percent. Selling, general and administrative expenses rose 3.7 percent in dollars and 25 basis points as a percentage of sales, to 10.1 percent.
Costco said it plans to open 15 new warehouse clubs before the end of its fiscal year in August. The company currently operates 673 warehouse clubs, including 474 in the United States and Puerto Rico, 89 in Canada, 35 in Mexico, 26 in the United Kingdom, 20 in Japan, 11 in Korea, 10 in Taiwan, seven in Australia and one in Spain.