Goldman, Cosentino, Izard Added to Cooking Theater Lineup
Chefs Duff Goldman, Chris Cosentino, Stephanie Izard and others have been added to the International Home + Housewares Show's Cooking Theater lineup next month.
Posted on 
February 24, 2015
 by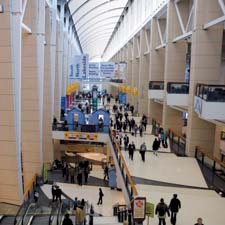 CHICAGO—Duff Goldman, Chris Cosentino and Stephanie Izard are among the seven chefs recently added to the lineup at the Cooking Theater for the International Home + Housewares Show, Mar. 7-10; details are below. They join such chefs as Rick Bayless, Ree Drummond, Paula Deen and Ming Tsai, who were previously announced. The chef demos will take place at the Cooking Theater in the South Building of McCormick Place.
Chef Matt Abdoo has been added to the schedule for Saturday, March 7, from 10:30-11-15 a.m., and his demo is sponsored by Mario Batali by Dansk. Abdoo has been the chef de cuisine at Batali's Del Posto in New York since 2008.
Later that day, from 4:30-5:15 p.m., Pat LaFrieda will now be on stage at the theater for his demo, sponsored by Victorinox Swiss Army. LaFrieda is the owner and operator of New York's Pat LaFrieda Meat Purveyors, which was established in 1922. LaFrieda has created more than 50 custom hamburger blends as well as signature custom blends for renowned New York restaurants. This April, Food Network will debut "Meatmen," a new reality show that follows LaFrieda, his father and his cousin through their daily work.
On Sunday, March 8, pastry chef and television personality Duff Goldman will kick off his demo at noon, running until 12:45 p.m. It's sponsored by Gartner Specialty Products. Goldman is the executive chef of the Baltimore-based Charm City Cakes and was the star of Food Network's "Ace of Cakes." He will then have a book signing from 1-2 p.m.
Chef Chris Cosentino will give a cooking demo on Sunday as well, from 1-1:45 p.m., and which is sponsored by Kai USA. Cosentino's muse is meat, including offal. He has also won "Top Chef Masters" and has competed on "The Next Iron Chef."
From 4-4:45 p.m., Alex Pilas will give his cooking demonstration, sponsored by Eataly Chicago. Alex Pilas is Eataly's executive chef; he has been with the Batali & Bastianich Hospitality Group for more than 10 years. He will also have a book signing, from 4:45-5:15 p.m.
On Monday, March 9, Stephanie Izard will start her cooking demo at 10 a.m. and it will run until 10:45 p.m. Izard owns two Chicago restaurants—Girl & the Goat and Little Goat Diner—and will open her third one this summer, a Chinese restaurant called Duck Duck Goat. She was the winner of the fourth season of "Top Chef."
On Tuesday, March 10, Bobby Parrish will kick off the day with his cooking demo, from 9:30-10:15 a.m., which is sponsored by Tastemade, a video city guide app that launched last year. He produces cooking videos on YouTube and won Food Network's "Guy's Grocery Games."
Visit housewares.org for the full Cooking Theater schedule.