Costco Q2 Net Falls 15.4 Percent
Posted on 
March 6, 2014
 by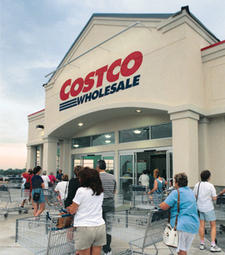 ISSAQUAH, Wash.-Weak sales and margins in certain product categories led to a 15.4 percent slide in Costco's second-quarter net income, which totaled $463 million.
Net sales in the quarter, which ended on Feb. 16, rose 5.8 percent to $25.6 billion, including a same-club sales increase of 3 percent. Gross margin slipped eight basis points to 12.4 percent.
Explaining the drop in the bottom line, Richard Galanti, Costco's chief financial officer, cited weak sales and gross margins in some non-foods categories, especially during the holiday shopping period; reduced margins in fresh foods; and declining net income from the company's international clubs. "The first four-week period of the quarter represented the majority of earnings underperformance in the quarter," Galanti said.
Selling, general and administrative expenses gained 13 basis points as a percentage of sales to 9.6 percent, and were also up 7.2 percent in dollars.
Galanti added that net income last year was helped by a $62 million tax benefit in connection with a special cash dividend Costco paid in December 2021. "Even with that distinction, however, the year-over-year comparison was unfavorable," he said.