Fagor Duo Pressure Cooker Featured on "Master Chef"
Posted on 
August 27, 2014
 by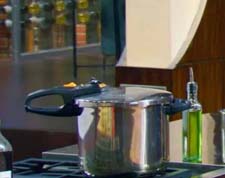 The Fagor Duo pressure cooker
HACKENSACK, N.J.-A recent episode on "Master Chef" offered dim sum meals prepared using Fagor's Duo pressure cooker.
In the episode, the contestants used the Duo to prepare the meats and vegetables in dim sum meals, which include small, bite-size portions which are traditionally served in small steamer baskets or small plates. A Fagor statement described this cuisine as "technical and complex," in which the fillings are flavorful and perfectly balanced.
The Duo line of pressure cookers includes four-, six-, eight- and 10-quart sizes. It also has sets including the Duo COMBI 5-Piece Set and the 10-Piece Pressure Canning Set. Its design includes a spring-type mechanism with two pressure settings, low (eight pounds per square inch) and high (15 pounds per square inch), and it's equipped with a steamer basket and trivet.