Smartwares: Retailers Taking the Lead
Four intrepid retailers stand head and shoulders above the rest in their approach to the Internet of Things, or smartwares.
Posted on 
November 5, 2015
 by 
Best Buy's Competitive Edge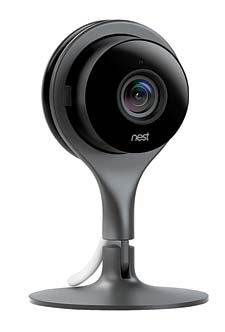 The Nest Cam High Definition Video Monitoring Camera is one of the smart home products on offer at Best Buy. bestbuy.com
With displays both in-store and online, Best Buy is working hard to establish itself as the go-to retailer for smart home products.
The specialty retailer has tagged its offering "Connected Home," and—as it says on its website, "The Connected Home Starts Here." Among the products included under the Connected Home banner are thermostats, indoor and outdoor lighting, light switches, security cameras and systems, alarms and smoke detectors, door locks, sprinkler controls and the networking solutions needed to link these products to their control devices.
Best Buy also offers a long lineup of control applications for these devices, including Nest for heating and thermostats, Phillips Hue for lighting, WeMo for a variety of uses and Arlo, August, Swann, Netgear and Canary for home security.
All Best Buy locations now offer smartwares. Nearly all of them have dedicated space to smart home departments, with signage and several aisles of fixtures with the full slate of its smartwares offerings.
The departments are a necessity with the burgeoning growth of the smart category, according to Shandra Tollefson, a Best Buy spokeswoman. Citing research by market research firm Parks Associates, the spokeswoman said 13 percent of broadband homes now own at least one smart home device, "and the industry's set to double by 2018. That's because these products are now more accessible and affordable, averaging $50 to $350."
Crucial to Best Buy's effort is the participation of the Geek Squad, the retailer's service for installing, setting up, protecting, supporting and repairing the products it sells. Not only does the Squad help in setting up the products and connecting them to the customer's mobile devices, but it also helps in setting up the network that best suits the customer's needs.
The Geek Squad also has a hand in developing smart products with Best Buy vendors. Most recently, the Squad worked with Netgear to create the new Netgear Nighthawk router, which—built to Best Buy specifications—encompasses the growing number of connected devices in a home while virtually eliminating Wi-Fi dead zones.
Best Buy's merchandising of smartwares is attempting to strike chords not only with homeowners who want the convenience and security these products provide, but with homeowners looking for products that provide environmental benefits. "Automating your home's temperature, lighting and other appliances reduces wasted energy when you are not home, and saves you money in the process," said Suzanne Hilker, a Best Buy spokeswoman.
For example, smart thermostats save both energy and money by not heating or not cooling an empty house, she said, adding that "smart lighting systems provide even more power reduction options." Wi-Fi irrigation controls adjust a home's sprinkler schedule according to real-time weather data and analytics, keeping the sprinkler turned off when rain is in the forecast.
According to some executives in the consumer electronics industry, these efforts have propelled Best Buy to the forefront among retailers offering smartwares. "They're trying to take the leadership position and show the way," said Andre Lalande, director and general manager of the subscription broadcast division of URC. "It's in their employee communications approach to try to help consumers identify the best products for them. They've invested in additional technical training for both associates and senior employees."
Best Buy has extended its merchandising of smartwares into a broader effort to get homes connected to high-speed broadband service. The retailer has lent its support to the White House's ConnectHome initiative, which is attempting to link 99 percent of the nation's K-12 students to high-speed broadband by 2018, and is targeting low-income households.
Best Buy is contributing to the ConnectHome program by providing training in technical skills and digital literacy. The retailer is conducting Geek Squad Academy technology education programs in cities throughout the nation, and is outreaching specifically to teens in public housing communities, including the Choctaw Tribal Nation. It will also perform digital literacy training for families and teens in select HUD communities, along with free ongoing after-school technology education programs for teens participating in ConnectHome.
"We believe we have a responsibility to share our knowledge and resources to help underserved populations experience the benefits of technology," said Susan Bass Robert, head of community relations and diversity and inclusion for the retailer. "By participating in the ConnectHome initiative, we can ensure these families and children have the skills they need to make the most of Internet access."
To some vendors, Best Buy provides a model of how other retailers should tackle the smartwares category. "Retailers should do what Best Buy is doing," said one consumer electronics executive. "Carry all the brands, and provide all the training and services." —David Gill
Lowe's Iris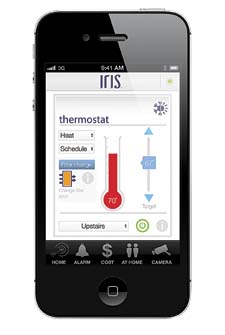 Consumers rate home improvement stores as the number-one place to buy smart home products, according to the annual Smart Home Survey conducted by Harris Poll on behalf of Iris, Lowe's smart home business unit.
When asked why they would choose a home improvement store, the 2,000 adult consumers polled said it's because it is a retailer they can trust (55 percent) that has knowledgeable staff (40 percent) and a variety of available products (48 percent). When it comes to purchasing considerations, cost of equipment and monthly fees as a deciding factor has decreased (down from 56 percent in 2014), though it's still the most commonly cited (43 percent). Ease of use is the second most important deciding factor (19 percent, up from 13 percent in 2014), followed by energy and efficiency features (15 percent) such as home temperature control and automated lighting. Two-thirds (66 percent) of Americans report they plan to purchase smart home products someday, with 17 percent planning to do so within the next year.
"We constantly aim to further understand the ways in which people evolve right along with smart homes. This year's results show us the cost of smart home products is becoming less of a roadblock for consumers than in the past, and they are more inclined to purchase from retailers they can trust," said Mick Koster, vice president and general manager of Iris Home Systems. "Insight around consumers' attitudes toward home automation supports our year-round efforts to deliver better value with Iris and ultimately offer the best possible technology and products to help homeowners love where they live."
The following are additional survey findings:
Among Americans who plan to buy any smart home products in the next 12 months, security cameras are the number-one item they plan to purchase (56 percent).
Lowe's target consumers are those wanting to make their homes smarter, safer, more energy efficient and easier to manage, Kris Bowring, director of business and channel development, told HFN. "We are pleased with the rate at which consumers are positively responding to and adopting Iris," he said. "We continue to invest in the technology and bring on new partners to offer our customers the simplest, most intuitive and personalized smart home platform with the broadest array of connected products that work together to create a customized and practical home ecosystem."
Most consumers enter the smart home arena through home safety and security products such as window and door sensors, and alarm siren and keypads, according to Bowring. "Once simple automation happens in their home, they start to understand the added benefits and convenience our smart home solution offers," he said. "They begin to see new needs and uses, at that point, and start to add more automation devices such as motion sensors, video cameras, smart plugs, garage door openers and key fobs."
Because of the technical nature of Iris, Lowe's uses in-store experts to walk interested customers through the smart home system. They also work very closely with manufacturer partners to facilitate and guide them in connecting their products to the Iris open platform, Bowring said. "We want great brands that our customers know and trust to be part of the Iris home system, and we help to make it easy for our customers to customize the smart home ecosystem to their lifestyle and needs," he added.
Aware that consumers have privacy concerns around the Internet of Things/smart products, Lowe's has adopted the "highest possible standards for Iris to keep our customers' information safe, and all data is encrypted by the same type of security systems used by online banks," Bowring said. "Privacy is absolutely essential to us and we understand consumers' concerns."
As consumers become more educated about and interested in connected home products, Lowe's expects "significant growth" in the category over the next several years. "We will continue to see great innovation, simplification and personalization across the entire connected home industry," Bowring said. "We will also see expansion of the ecosystem, from insurance and home health, more automotive interaction and energy management." —Maureen Azzato
Sears Solutions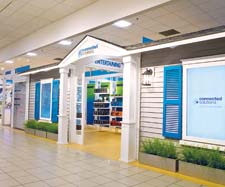 The 4,000-square-foot Connected Solutions store opened in San Bruno, Calif. in June.
Creating a connected home may be a no-brainer for the young and the early adopter, but for many others, web-enabled devices can pose a challenge the minute they are taken out of the box, which is why Sears came up with its Connected Solutions program.
Connected Solutions offers more than 100 smart products across multiple categories, along with installation services and tech support, and demonstrates how a connected home can solve problems and save money.
In June 2014 Sears launched three 2,000-square-foot Connected Solutions stores in the Chicago area that offer a range of smart home products. "We had a lot of great feedback," said Ryan Ciovacco, president of consumer electronics and Connected Solutions for Sears Holdings. Consumers were excited that Sears was offering these products. "But there are two issues. There's often no installation support. Many manufacturers tout [their web-enabled products] as DIY, but DIY is very relative. It was a big barrier. The other is tech support. That wasn't present."
This June, Sears unveiled its 4,000-square-foot Connected Solutions flagship store in San Bruno, Calif., which features lifestyle vignettes in a home-like setting, including a living room, kitchen, nursery, workout room, garage and outdoor area, where people can experience firsthand how smart products operate and integrate with other items. It also rolled out dedicated tech support with trained technicians who are knowledgeable about every smart home item Sears sells, as well as installation services. A technician will go to a consumer's house, install the product, download the software and demonstrate how it works.
"It's not just selling the products but the service … that will play into our strategy," Ciovacco said.
In terms of its product offering, Sears has a wide array of smart home goods, from lighting to cameras to connected Crock-Pots and coffeemakers. "That's where Sears has a unique advantage—we have products in all those categories," Ciovacco said.
The Internet of Things appeals to different customer demographics for different reasons, Ciovacco said. There are moms interested in baby cams, security and lighting; health-oriented folks looking for Fitbits and other wearable devices; security-focused consumers who want motion-sensor lights and doorbell alerts; and the energy-efficient crowd looking for programmable thermostats, smart plugs and the like. A lot of people fall for the high-tech aspect of these products, Ciovacco said, but Sears is trying to demonstrate how they can helpful and practical. "We're trying to focus on why you need a connected Crock-Pot."
Sears is expanding its smart home products, services and tech support to 200 stores across the country this year, and dedicates a portion of its website to Connected Solutions, including a virtual tour of a connected home.
Last month Sears acquired the technology associated with WallyHome, which detects and alerts a homeowner to water leaks and temperature and humidity changes in a home, and added August Smart Locks, which includes things such as a doorbell cam and a smart keypad, to its assortment of connected products. —Allison Zisko
Target's Open House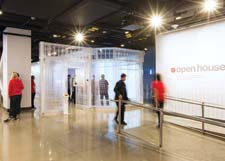 Target's Open House is a showcase for smart home products and technology.
Target has jumped into the smart home arena, not only bolstering its smartwares product assortment in stores and online, but—with its new Target Open House showhouse—also allowing consumers to learn more about this category in person and how it fits into the home.
A 3,500-square-foot location in San Francisco, Open House highlights about 35 smartwares in an acrylic "house," with acrylic furnishings. In its rooms, vignettes show how multiple connected devices can work together; a sound system linked to a smart baby monitor, for example, can play soothing music when a baby stirs.
"Putting a house in the space, we felt, was the most relatable and welcoming way to introduce these products," Todd Waterbury, Target's chief creative officer, said on the retailer's blog. "What we're trying to do is humanize and personalize the benefits of these products, as well as show them working in concert. It's really about relevant storytelling and creating a destination for engagement and discovery."
Current best sellers include Tile, a two-way Bluetooth locator; Nest, which offers automated home products such as a thermostat, a smoke and CO detector and a security camera; lightbulbs from Philips' Hue personal wireless lighting line; the iGrill cooking thermometer; and PetNet, an automatic feeder for cats and dogs, said Jenna Reck, public relations manager, Target. The products are also all for sale; about one-third are carried in Target stores nationwide, she added, and others are available through the manufacturer. The offering will be regularly updated.
The objective with Open House was threefold: to create an experimental retail setting that inspires visitors; to build relationships with the connected home community in San Francisco; and to get products to consumers so Target can learn how these products and services can come to life for consumers, Reck said. It is also intended to provide feedback from consumers as they interact with the products. The space will also host regular meetings that will range from "tech talks" to product demonstrations and launches.
Target chose San Francisco for the Open House as the "Bay Area tech community has made important strides in the [Internet of Things] space," said Reck, and two-thirds of Internet of Things companies are opening up there or visiting regularly. Target also has a tech office in that city. Open House was created as a single location, with no others planned.
Smartwares also have been evolving at Target's stores and website as the retailer tests and learns about the category. A year ago, the retailer added hundreds of special endcaps dedicated to Nest and Wink products, Reck said. Then this past May, the online store added a dedicated section in electronics for connected home devices. In addition, because its guests rely heavily on online research for these purchases, it created an online shop called Target.com/smarthome, Reck said. More than 200 items are available online, some of which are exclusively online, and they include Nest and Honeywell thermostats, Wink-enabled Schlage door locks and WeMo light switches. —Andrea Lillo